The Repertory Arm of PETA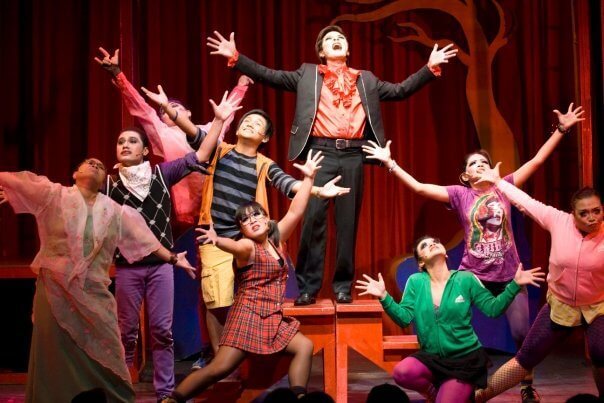 The Kalinangan Ensemble (KE) is the repertory arm of PETA. Composed of competent artist-teachers, the KE is tasked with designing a cutting-edge, dynamic, out-of-the-box theater season representing a stream of artistic styles, genres, and disciplines that allow for critical thought and expression. KE continuously strives to enrich Philippine aesthetics by the use of dramatic styles that are rooted in local culture and enriched by foreign dramatic contributions.
For decades KE has pushed for the continued use of the national language and exploration of local, traditional, and experimental forms, while remaining sensitive to the sensibilities of its audience and in the defense of the voiceless and vulnerable members of society by expressing their stories on stage. For more than four decades, KE has trail blazed paths for others to emulate as it continues to develop Philippine Theater through research, training, experimentation, and production.
REGULAR SEASON AT THE THEATER CENTER Three to four productions are staged annually at the PETA Theater Center from June to March. Audiences can look forward to a variety of productions following a given thematic thrust for the theater season. In addition to this, the PETA Laboratory stages a number of one-act plays and excerpts, serving as a platform for experimentation.
MOBILE PRODUCTION PETA continues to make theater more accessible by touring some of its plays to schools, communities and other venues. Some PETA productions have gone on a nationwide tour of major cities in Luzon, Visayas and Mindanao and have been invited to perform in Japan, Korea, the USA and Europe.
KE is led by its PETA Artistic Director and one of the most seasoned artist-teachers, Maribel Legarda, who has been involved in over 80 productions as an actress, dancer, director, and choreographer. She has conducted and participated in numerous workshops locally and internationally. Her latest plays include PETA's biggest musicals, Caredivas and the phenomenal hit musical Rak of Aegis.