The CREATIVE LEARNING SPACE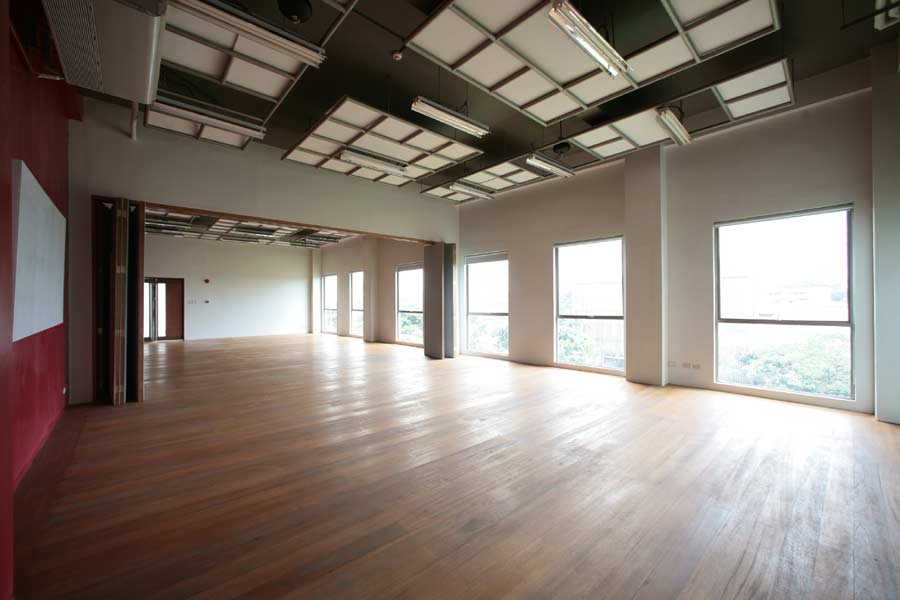 STUDIO A and STUDIO B (2nd Floor)
These creative learning spaces are adjacent to the catwalk levels of the theater. Bright and refreshing, the studio areas have an overhead steel grid for attaching or hanging equipment, acoustic tiles, and decor. The two studios are separated by a folding divider. Once opened, the studios unite to form a hall for larger seminars and workshops, rehearsals, conferences, exhibits, audiovisual presentations, performances, etc. The wooden floor is insulated for sound dampening and layered for shock absorption making it ideal for dance and movement. These rooms may be well lit by sunshine and/or an ample set of energy-saving lights or darkened by roller blackout window shades.
Before one can enter these rooms, people have to observe an Asian tradition of removing one's shoes as a protection for the floor and as a gesture of reverence to the sacred creative spaces.
Studio A & B Total Area: 131.25 sq. meters.
Dimension (L x W x H): 17.5 x 7.5 x 3.5 meters
Studio A Area: 75 sq. meters. Air conditioning available.
Dimension (L x W x H): 10 x 7.5 x 3.5 meters
Seating Capacity: 49 persons
Standing Capacity: 55 persons
Seminar/ Workshop Capacity: 35 persons
Studio B Area: 56.25 sq. meters. Air conditioning available.
Dimension (L x W x H): 7.5 x 7.5 x 3.5 meters
Seating Capacity: 36 persons
Standing Capacity: 40 persons
Seminar/ Workshop Capacity: 28 persons