"RAK OF AEGIS" THE MUCH AWAITED ONLINE STREAMING!
A treat for theater fans and OPM lovers! Philippine Educational Theater Association (PETA) together with Organisasyon ng Pilipinong Mang–Aawit (OPM), The Philpop Musicfest Foundation (Philpop), PLDT Home Fibr, and Foodpanda, are proud to present the pay-per-view streaming of the jukebox musical Rak of Aegis on July 31, August 1, 7, 8, 2021 via www.ticket2me.net.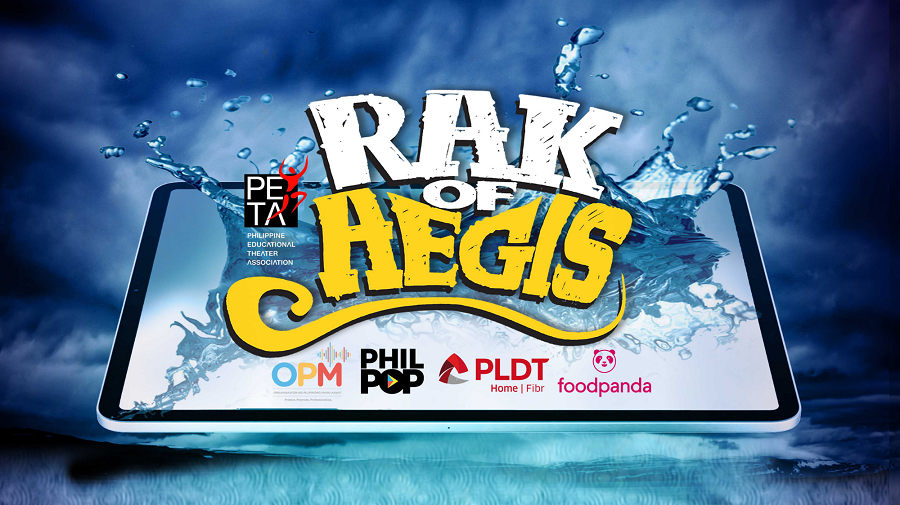 The Rak of Aegis online streaming is part of the Linggo ng Musikang Pilipino (LMP) 2021 celebration, and the banner project of the #TakePETAbeyondCOVID campaign, a fundraising drive that aims to help PETA survive this unprecedented time.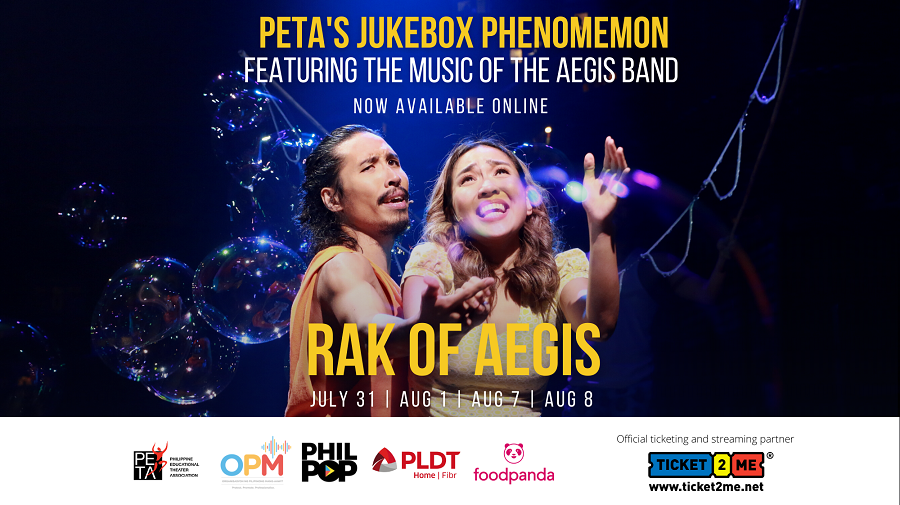 The streaming is also PETA's way of showcasing and celebrating Original Pilipino Music and Filipino talent, while providing a much-needed message of hope to Filipinos all over the world. Featuring songs from the popular 90's band Aegis, the jukebox musical tells the story of impoverished community Barangay Venezia, which has been submerged in floodwater for two months.
Since 2014, Rak of Aegis has captured the hearts of audiences with its humor, music, and messages of resiliency, family, and community. Now, finally, Villa Venezia and its well-loved residents will grace the screens, with a newfound relevance to the show's message.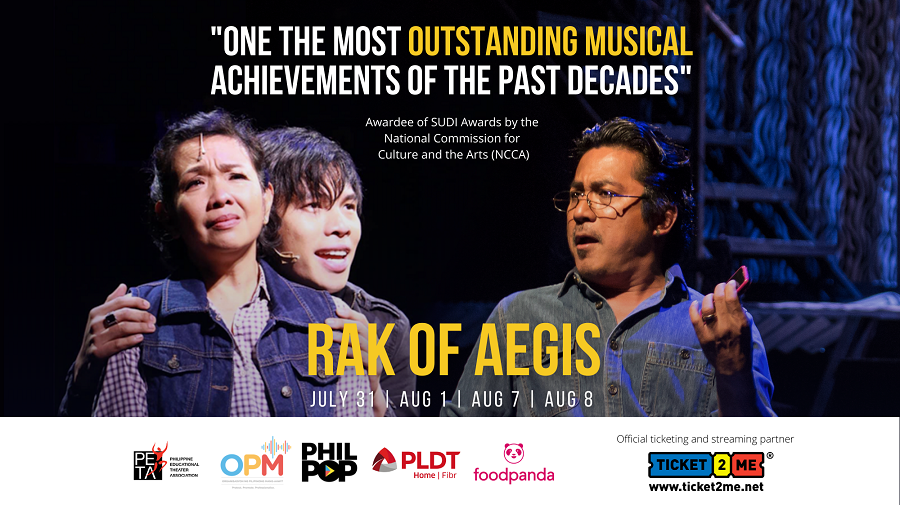 This streaming of Rak is a testament that the resilience of those in Villa Venezia exists not only in the play, but also in the Filipinos trying to navigate through the COVID-19 pandemic, and in the artists who have strived to survive and thrive despite the crisis currently faced by the local theater industry.
"Getting our company, and industry, back up and running is critical for the future vitality of the arts and culture sector in general," says PETA President Cb Garrucho.
The Rak of Aegis streaming cast includes Aicelle Santos, Pepe Herrera, Poppert Bernadas, Isay Alvarez-Seña, Robert Seña, Joann Co, Jimi Marquez, and Gie Onida, together with John Moran, Matel Patayon, Marynor Madamesila, Lemuel Silvestre, Teetin Villanueva, and Rafael Sudayan in the ensemble.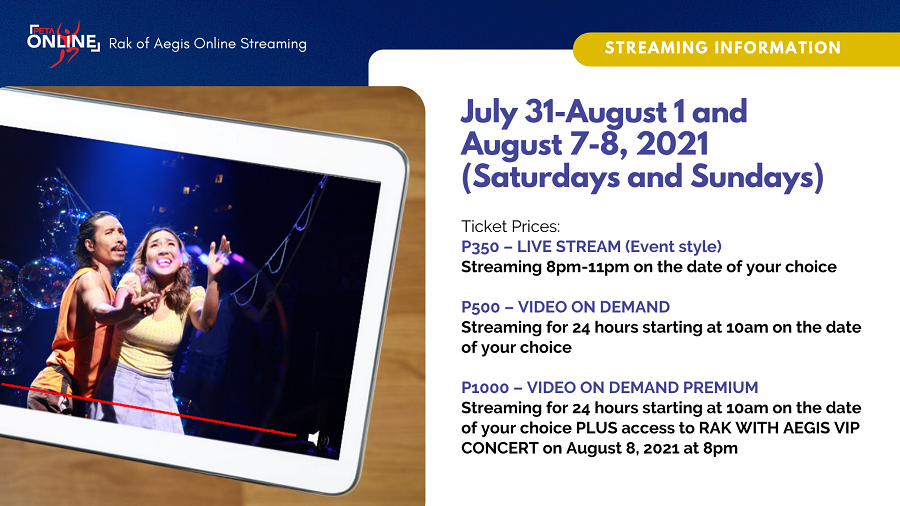 Rak of Aegis is written by Liza Magtoto and directed by Maribel Legarda, with musical direction and arrangement by Myke Salomon, choreography by Gio Gahol, set design by Mio Infante, lights design by Jonjon Villareal, costume design by Carlo Pagunaling, and shoe design by Maco Custodio.
BUY TICKETS ONLINE
Tickets are on sale via our ticketing and streaming partner, www.ticket2me.net or by simply clicking this link:www.bit.ly/rakofaegisstreaming. Sign-up using your email, mobile number or Facebook account, and follow the booking instructions. Upon completion of payment, an e-ticket will be sent to your registered Ticket2Me email.
Audiences can choose from the following tickets and viewing options:
Livestream at Php 350 - 8:00 P.M to 11:00 P.M. (Philippine Standard Time)
Video On Demand at Php 500 - 24-hours streaming from 10:00 A.M. to 10:00 A.M. the next day (Philippine Standard Time)
Video on Demand Premium at Php 1,000 - 24-hours streaming from 10:00 A.M. to 10:00 A.M. the next day (Philippine Standard Time) plus exclusive access to the Rak with Aegis LIVE virtual concert on August 8, 8:00 P.M., featuring the Aegis Band and select cast of Rak of Aegis.
BUY TICKETS FROM OUR AGENTS
Make ticket buying as easy as 1-2-3. You can buy from any of our Rak of Agents!
Step 1: Contact an Agent selling tickets on the date of your choice.
Step 2: Choose a ticket, and purchase your ticket by sending a Gcash payment or bank transfer to the agent.
Step 3: Wait for the e-ticket which will be forwarded to your email by the Rak Agent.
List of official Rak of Agents
SHOW DATES
AGENT NAME
CONTACT INFO
July 31, 2021
Pamela Ovejas
0917 5260534
Hope Charity Zambrano
0917 3124673
Roy Allan Magturo
0917 4830311
Joshua Magsombol
0917 8871701
The Medical City Doctors
0917 1051580
Poppert Bernadas
0906 2878049
August 1, 2021
Joyce Lim
0918 8427346
August 7, 2021
Jenki Fernando
0918 8900512
Christian Joseph Tagal
0917 1181410
Marvin Tomandao
0968 5460100
Ateneo Human Rights Center
0917 5112850
Philippine Titan Alumni Association
0916 2531081
August 8, 2021
Sheryl Maala
0917 6969402
Carlon Josol
0956 9518812
Roman Cruz
0917 8256626
TheaterFansMNL
0917 8912300
Katbaloganon Filipinos International Foundation
0927 4561059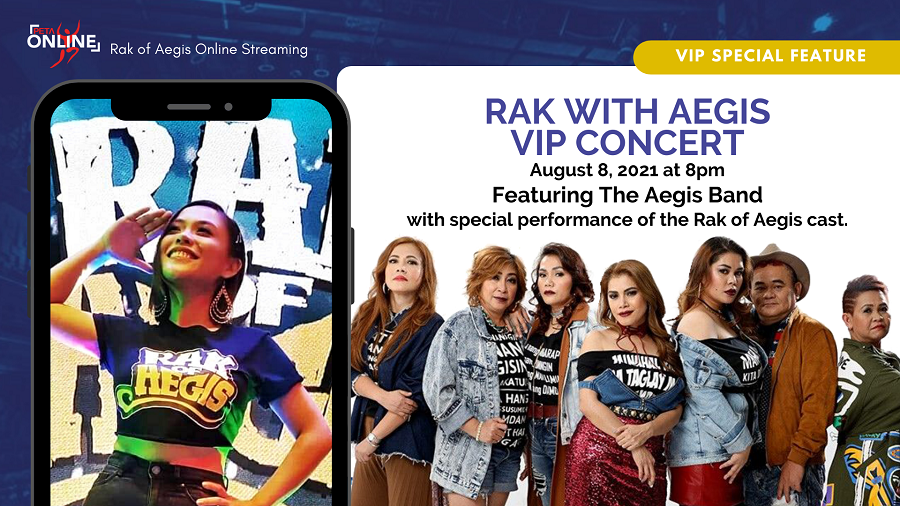 Those looking to make even more of an impact can make an additional donation to PETA through www.ticket2me.net (for donations 500 and up), or through PETA's Gcash account.
For bulk tickets and partnerships, contact Mitch Go, mitchgo@petatheater.com, 0917-5391112. For more information, follow PETA's social media pages: Facebook www.facebook.com/petatheater; Instagram @petatheater; Twitter @petatheater; YouTube www.youtube.com/petatheateronline or visit www.petatheater.com/rakofaegis.